Keynote Speakers
SOLD OUT!

David Starkey CBE
HENRY VIII: THE FIRST BREXITEER?
Friday, 25th October 2019
7pm, Theatr Bryn Terfel
Henry VIII, like a colossus, bestrides the history of our country. He invented the idea of British uniqueness; in fact, the Reformation could be defined as the first Brexit, when his ministers devised the doctrine of parliamentary sovereignty. In this talk David Starkey draws on his unique knowledge of Henry's reign to examine his tumultuous personal life, which pitted religion against politics as brutally as in our own age of Isis, through to the Grand Tourists who bought European culture with British money, all offering so very many parallels with the Brexit situation we find ourselves in today.
David Starkey CBE is an English constitutional historian and a well-known radio and television presenter. He studied at Cambridge University, specialising in Tudor history. From Cambridge, he moved to the London School of Economics where he was a lecturer in history until 1998.
He has presented several history documentaries, following his first appearance on television in 1977. His television documentaries include The Six Wives of Henry VIII, David Starkey's Magna Carta and Monarchy by David Starkey. He has written numerous books on the Tudors including Henry: Model of a Tyrant, Magna Carta: The True Story Behind the Charter and Monarchy: From the Middles Ages to Modernity. He has also worked as curator on several exhibitions, including an exhibit in 2003 on Elizabeth I.
In 1984, Starkey was elected a Fellow of the Royal Historical Society and in 1994 a Fellow of the Society of Antiquaries of London. He has also been awarded an Honorary Fellowship from his Cambridge College, Fitzwilliam College.
Starkey was appointed Commander of the Order of the British Empire (CBE) in the 2007 Birthday Honours for services to history.

SOLD OUT!
Lucy Worsley OBE
QUEEN VICTORIA – DAUGHTER, WIFE, MOTHER AND WIDOW
Saturday, 26th October 2019
7pm, Pontio PL5
Queen Victoria: a little old lady, spherical in shape, dressed in black, perpetually grumpy. Right? Historian Lucy Worsley wants to make you think again. Meet a complex, contradictory woman who had a traumatic childhood, who loved dancing, who suffered calamity and bereavement, before coming out the other side as an eccentric, powerful and really rather magnificent old lady. Lucy's illustrated talk takes you into the life, the palaces, and the rich colourful age of this woman who ruled a quarter of the globe.
Lucy Worsley is an English historian, author, curator, and television presenter.
Lucy began her career as a tour guide at Milton Manor in Oxfordshire, before working for the Society for the Protection of Ancient Buildings and then English Heritage. She is now Chief Curator at Historic Royal Palaces, the independent charity responsible for maintaining the Tower of London, Hampton Court Palace, Kensington Palace State Apartments, the Banqueting House in Whitehall and Kew Palace in Kew Gardens. She read Ancient and Modern History at New College, Oxford, and has a PhD in Art History from the University of Sussex.
Lucy is a well-known presenter of BBC Television series on historical topics, including Elegance and Decadence: The Age of the Regency (2011), Harlots, Housewives and Heroines: A 17th Century History for Girls (2012), The First Georgians: The German Kings Who Made Britain (2014), A Very British Romance (2015), Lucy Worsley: Mozart's London Odyssey (2016), and Six Wives with Lucy Worsley (2016). In 2019, Lucy presented American History's Biggest Fibs and Queen Victoria: My Musical Britain.
She has written several books including A Very British Murder, based on her TV series, Jane Austen at Home and Queen Victoria: Daughter, Wife, Mother, Widow. She has also authored fiction books for young adults and children.
In July 2015, she was made an honorary Doctor of Letters by the University of Sussex and was appointed an Officer of the Order of the British Empire for services to History and to Heritage in the 2018 Birthday Honours.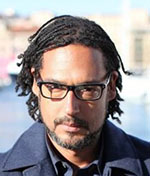 SOLD OUT!
Prof. David Olusoga OBE
SLAVERY, EMPIRE AND HISTORICAL AMNESIA
Friday, 25th October 2019
10am, Theatr Bryn Terfel
David Olusoga is a British-Nigerian historian, BAFTA-winning broadcaster and film-maker. Born in Lagos, Nigeria, David and his mother migrated to the UK when he was five years old. He studied at the University of Liverpool and is currently Professor of Public History at the University of Manchester.
'One of the UK's foremost historians', David's books and television programmes have explored the themes of empire, military-history, race, slavery, and contemporary culture in the UK and USA.
His most recent TV series include Black and British: A Forgotten History (BBC 2), The World's War (BBC 2), A House Through Time (BBC 2) and the BAFTA winning Britain's Forgotten Slave Owners (BBC 2). He is also one of the three presenters on the BBC's landmark Arts series Civilisations alongside Mary Beard and Simon Schama.
David is also the author of Black & British: A Forgotten History, which tells the rich and revealing story of the long relationship between the British Isles and the people of Africa and the Caribbean. The book was awarded both the Longman-History Today Trustees Award and the PEN Hessell-Tiltman Prize. His other books include The World's War, which won First World War Book of the Year in 2015, The Kaiser's Holocaust: Germany's Forgotten Genocide and the Colonial Roots of Nazism and Civilizations: Encounters and the Cult of Progress. He was also a contributor to the Oxford Companion to Black British History.
David writes for The Guardian and is a columnist for The Observer and BBC History Magazine. He was awarded an OBE in the New Year Honours 2019 for his services to history and community integration.